Earn 1 CME Credit in Orthopedics in July!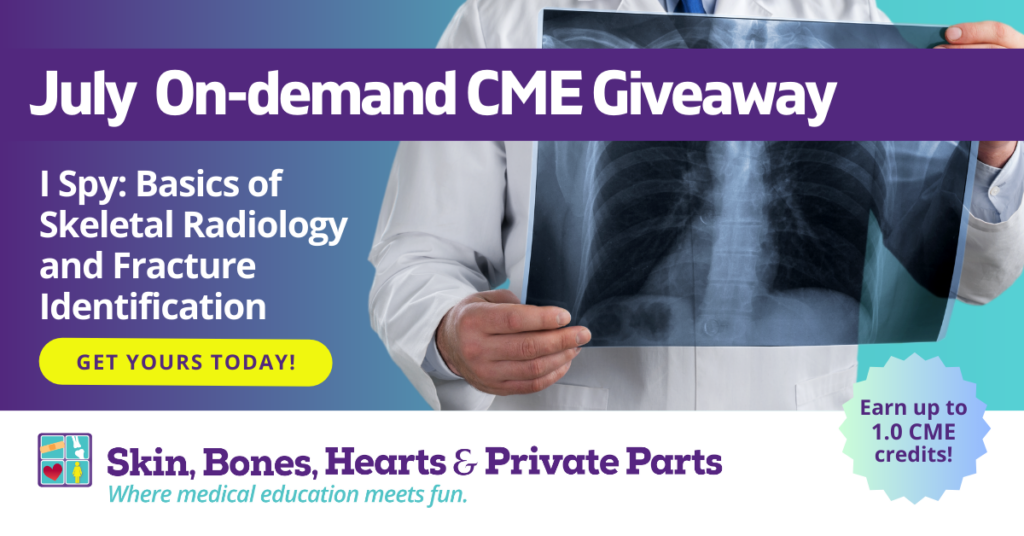 Skin, Bones, Hearts & Private Parts is making it even easier to earn online CME from now through September 2023, with a FREE On-demand CME Giveaway every month! In July, in concert with Juvenile Arthritis Awareness Month, were offering I Spy: Basics of Skeletal Radiology and Fracture Identification, taught by Sarah Bolander, DMSC, PA-C, DFAAPA, an Associate Professor in the PA program at Midwestern University and Adjunct Faculty in the Doctor of Medical Science (DMSc) program at the University of Lynchburg.
In this session, Dr. Bolander challenges physicians, physician assistants, and nurse practitioners to hone their skills at interpreting skeletal radiology and correlate image findings with a clinical exam to identify even subtle fractures. You will be familiarized with the essential tools to identify and describe fracture findings from plain radiographs appropriately, including: 
Recognizing common radiographic findings associated with orthopedic injuries of the extremities.
Defining terms used to describe the type and pattern of fractures including transverse, oblique, spiral, greenstick, bowing, and torus. 
Describing a fracture in terms of size, location, configuration, articular involvement and potential for physealextension.
Determining the amount of fracture displacement including translation and angulation.
Identifying and describing worrisome features of bone tumors or lesions to help differentiate potential causes.
Earn one CME credit in this FREE On-demand orthopedics course by clicking here. And, with available topics changing every month, be sure to keep checking in to find out the details of your next course, earning online CME has never been so easy! Watch for topics on cardiology & emergency medicine; dermatology; diabetes; mental health; pain management; and women's health – all offered in an On-demand format that will fit your schedule and are taught by our most engaging and dynamic CME conference speakers! Find out more here!