Sarah Bolander, DMSc, MMS, PA-C, DFAAPA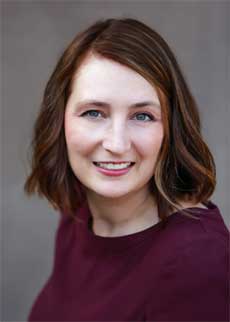 We're kicking off our On-demand CME Giveaway this month, with orthopedics as the featured topic for July. Those tuning in to this month's online CME course, I Spy: Basics of Skeletal Radiology and Fracture Identification, will meet Sarah Bolander, DMSc, PA-C, DFAAPA – a thought leader in her field and our very own Alex Trebek as host of our popular "This Is … Ortho Jeopardy" game show!
Watch speaker video: https://youtu.be/FGpnFlWIFps
Background
Dr. Bolander is an Associate Professor in the physician assistant (PA) program at Midwestern University and Adjunct Faculty in the Doctor of Medical Science (DMSc) program at the University of Lynchburg, where she also earned her Master of Medical Science Degree and her DMSc Degree with a focus in medical education, respectively. She has worked clinically in orthopedics since 2008 and continues to work in pediatric orthopedics part-time, as well as serving her profession both locally and nationally. She is a Distinguished Fellow with the American Academy of Physician Assistants (AAPA) and an active member of the Physician Assistant Education Association (PAEA), Arizona State Association of Physician Assistants (ASAPA), and Physician Assistants in Orthopaedic Surgery (PAOS). She is the 2021-2022 ASAPA President and an Arizona Representative for the AAPA House of Delegates, serves on the Education Steering Committee for PAEA, and is the CME Workshop Lead for PAOS.
Dr. Bolander regularly presents at local, regional, and national conferences. She is published in several peer-reviewed journals – including Clinician Reviews, JBJS JOPA, and JAAPA – on various musculoskeletal topics. In 2022, Dr. Bolander also published a comprehensive medical question review book with several of her colleagues.
Listen and learn from Dr. Bolander by registering for our FREE CME Giveaway on Orthopedics today, and earn 1 FREE CME credit!
All of our online CME and in-person CME conferences offer topics for Nurse Practitioners, Physician Assistants, and Physicians, in the fields of dermatology, orthopedics, cardiology & emergency medicine, women's health, pain management & pharmacology, diabetes, ER, and mental health.