SPIRIT!
Thanks to you, Skin, Bones, Hearts & Private Parts grew over 45% last year!  We're officially the fastest growing CME series in the nation!  Earning your loyalty and providing a one-of-a-kind experience are our top priorities!
Registration for our 2018 programs is now live!  We invite you to join us at SkinBonesCME.com to check out our BRAND NEW topics, tracks, and speakers.  Plus, due to popular demand, we've added two new venues:  Destin, FL – a world class resort famed for its sugar-white sands and emerald-hued waters; Phoenix/Scottsdale, AZ – at the base of Camelback Mountain featuring spectacular views with dozens of locally owned restaurants, surrounded by activities from world-class shopping to hiking.
So, which of these amazing vacation destinations will you choose for your CME this year?
| | | | |
| --- | --- | --- | --- |
| May 15-18, 2018 | June 11-14, 2018 | July 23-26, 2018 | September 11-14, 2018 |
| September 18-21, 2018 | Sept. 30 – Oct. 7, 2018 | October 9-12, 2018 | November 6-9, 2018 |
You're incredibly important to us, and that's why we created the SPIRIT program. SPIRIT encompasses our core values – community, excellence, integrity, passion, team work, creativity, and innovation. What's more, SPIRIT reflects our love for helping others. Our Turn It Up Foundation continues to help hearing impaired children pursue their musical dreams.
All past attendees will receive a SPIRIT card/keytag in the mail each January. Please keep your SPIRIT card close by and refer to it often. We hope you'll be reminded of your special family, and that you'll introduce us to your friends and colleagues as well.  No matter where you live, we hope you'll call us home.
Warmly,
Chuck Dillehay, MBA, CAE
Creator, President
SPIRIT Rewards:
Unlimited $100 rewards for referring friends
50% off cruise registrations
Rules:
One SPIRIT code use per household
Checks will be mailed 2 weeks following the event.
Over $40,000 has been distributed in rewards to date! (November 2017)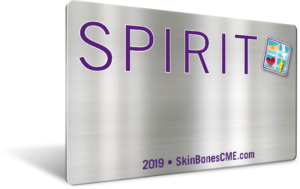 "For me, it was simple.  I told my friends at work how amazing the Skin, Bones, Hearts & Private Parts programs are.  I encouraged them to check one out, and I shared my SPIRIT code with them.  I told them not only would they really enjoy and benefit from the CME and overall experience, but that both of us would earn $100.  A few days went by, and they asked for my SPIRIT code again when registering because they had lost it.  
I fully believe in the Skin, Bones, Hearts & Private Parts programs and always learn so much when I attend which is why I keep coming back.  I particularly love listening to two of the speakers, John Bielinski and Wendy Wright.  I could listen to them 8 hours a day for 4 days straight or more.
I was an ICU nurse for 7 years before becoming a FNP.  I work in Coal City, IL and do Immediate Care, Work Comp, DOT physicals, Primary Care, and Corporate Health.  My husband Daniel and I have been married for 10 years and we have 3 boys: Jace is 7 and in first grade and Griffen and Liam are 5 and are in Kindergarten.  I enjoy being active in their karate, baseball, and school activities.  I truly enjoy serving my community and value each and every one of my patients and their families.  I'm a comforting face for them since my children attend the same school as their children.  It's such an honor to know so many people stand behind me and value what I do."  – Danielle Ratazak, Morris, IL
---
"After attending my first conference in San Antonio 2015, I knew I had to share the excitement and gained knowledge I
endured after the conference. Before boarding my plane to Georgia, I texted each of my NP and PA contacts to tell them I finally found a clinical, evidenced-based conference that kept my attention. I had attended several other National known conferences where I would lose focus after a few hours of legislature talks, but this conference was different. In fact, I enjoyed having my peers present information that was useful in practice. Once my friends, colleagues, and their friends heard my testimony, they wanted to see for themselves. The most reward for each of us is to have a reduction in registration from my referrals. Another positive is early start and finish times so we can tour the city.
It has been easy to get the word out. I even tagged my friends on Facebook. I might not get as many referrals now, but I am happy to know I contributed to a greater success of invitees attending your conference. A practitioner on my team told me last month, she will never attend another conference."  – Sharon P. Willis, MSN, NP-C
---
"I am a Family Nurse Practitioner, currently working at a retail health clinic. I live in North Myrtle Beach, SC, with my husband and two dogs. I graduated from Francis Marion University in Florence, SC. Since I am practicing at my first job as a nurse practitioner, I was eager to find an interesting and applicable course for my continuing education requirements. I first heard about Skin, Bones, Hearts, and Private Parts from a colleague, who had nothing but wonderful things to say.  After participating in one of these courses on my own at the Myrtle Beach location, I was beyond impressed. The content of the
courses covered a wide range of material that is both relevant to practice and interesting. The speakers were very knowledgeable and engaging. The entire process was well organized, and the staff members were very friendly and approachable. They even gave out tumblers and flash drives to all of the guests!
Another very neat aspect is the Spirit Rewards Program.  Not only do you get education, CEU credits (a very large amount I must add), and a pleasant experience overall, but you ALSO have the option to earn money in the process. It is so simple; you refer someone, and each of you get rewarded for it ($100 cash!). The person you are referring just has to use your code when they register. It is extremely easy!
I can't wait to attend another Skin, Bones, Hearts, and Private Parts conference.  If you haven't been already, I highly recommend it!" -Meagan Hilburn, FNP-C
The SPIRIT Rewards program encompasses our core values and reflects our love for helping others.
Using your SPIRIT Rewards code shouldn't be another time-consuming task on your to-do list. So, we've made it easy for you! Visit the SPIRIT Resouces page and choose any artwork to share with your friends/colleagues on social media.