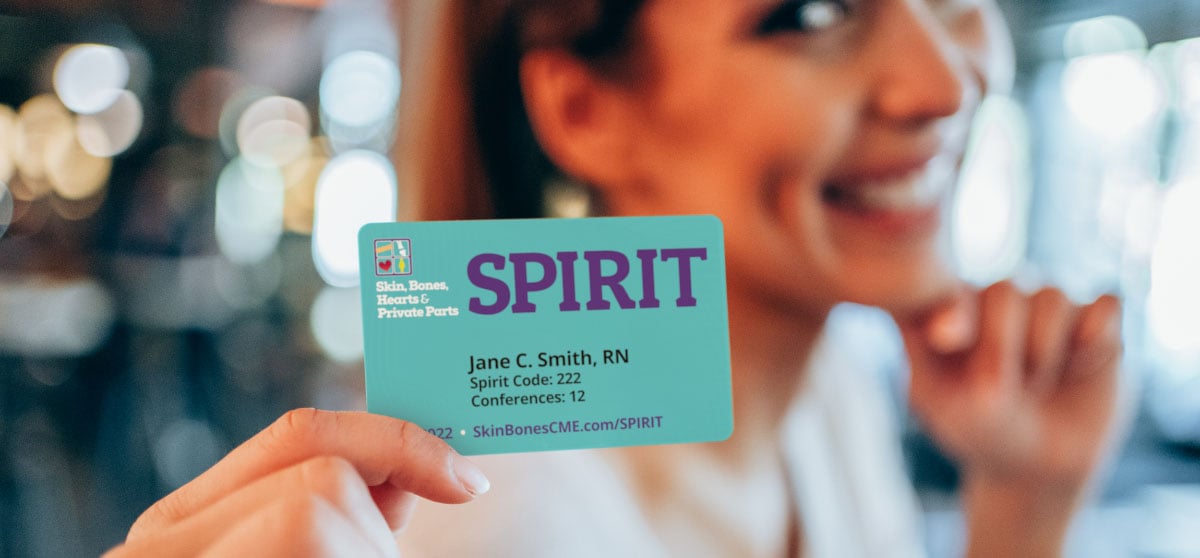 Over $50,000 In SPIRIT Referrals Were Distributed Last Year!
What Is SPIRIT?
It's our amazing loyalty referral program. We believe SPIRIT encompasses our core values – community, excellence, integrity, passion, teamwork, creativity, and innovation. What's more, SPIRIT reflects our love for helping others, such as our amazingly successful Turn It Up! Foundation, providing funding to deaf and hard of hearing children for musical pursuits.
How Can I Benefit From SPIRIT?
Simple. For every person who registers using your SPIRIT code, and is NEW* to our events, you both receive up to $100! It's really so easy – think how many providers you know – whether at your current workplace, prior practices, friends, colleagues, and even former classmates – this is the PERFECT opportunity for a class reunion! Checks to you and the people registered with your code will be mailed 2-4 weeks following the event. Code must be entered at time of actual registration to qualify. Rewards add up quick. $100 rewards apply for in person registrations; $50 rewards apply for virtual or on-demand**.
*New referrals only – excludes all past participants from any SBHPP event; In-person, Virtual or On-demand
**$50 SPIRIT Rewards can only be applied to On-demand Full Packages 1, 2, 3, 4 or Best of 2022 programs.
How Do I Get My SPIRIT Code?
If you've attended our events before, the code is typically on your name badge and other materials. If you don't remember your code please e-mail [email protected] or call us at 770-640-1022.
The SPIRIT Referral Posting Policy
We are thrilled to see our community sharing with colleagues and friends; and making new friends through our conferences! To best serve our community, we ask that you follow the 3 simple rules below in posting your SPIRIT code.
1. Be Kind and Courteous
We're all friends here! Share you experiences, extend a welcome to a new friend, answer a question from your fellow colleagues, or coordinate travel plans with an old pal. This is a space for you to share; but, please keep it kind and courteous.
2. No Spamming
We love to see you sharing your SPIRIT code and benefiting from the referrals. After all, our community is built for you! But, please keep your SPIRIT posts to a maximum of 1 per month on the Skin, Bones, Hearts & Private Parts page. (You are encouraged to share as much as you like on your personal pages, in groups you follow, etc.). We're in the business of helping others, building teams, and improving healthcare. Extend a warm welcome to friends, but avoid spamming. **Over-posting will result in being blocked from the page.
3. Encourage, Share, and Discuss
Share your medical experiences and ask others to do the same, while providing new ideas and solutions.
Ready To Join SPIRIT?
Get started here. We've made it easy for you!
Did You Really Give Away $50,000 In SPIRIT Referrals In 2022?
Absolutely! Read the stories below and see how easy it is!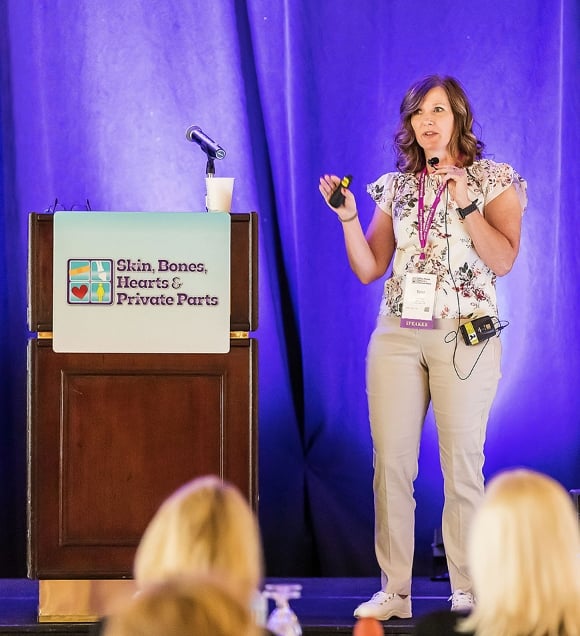 "For me, it was simple. I told my friends at work how amazing the Skin, Bones, Hearts & Private Parts programs are. I encouraged them to check one out, and I shared my SPIRIT code with them. I told them not only would they really enjoy and benefit from the CME and overall experience, but that both of us would earn $100. A few days went by, and they asked for my SPIRIT code again when registering because they had lost it.
I fully believe in the Skin, Bones, Hearts & Private Parts programs and always learn so much when I attend which is why I keep coming back.
I was an ICU nurse for 7 years before becoming a FNP. I work in Coal City, IL and do Immediate Care, Work Comp, DOT physicals, Primary Care, and Corporate Health. My husband Daniel and I have been married for 10 years and we have 3 boys: Jace is 7 and in first grade and Griffen and Liam are 5 and are in Kindergarten. I enjoy being active in their karate, baseball, and school activities. I truly enjoy serving my community and value each and every one of my patients and their families. I'm a comforting face for them since my children attend the same school as their children. It's such an honor to know so many people stand behind me and value what I do."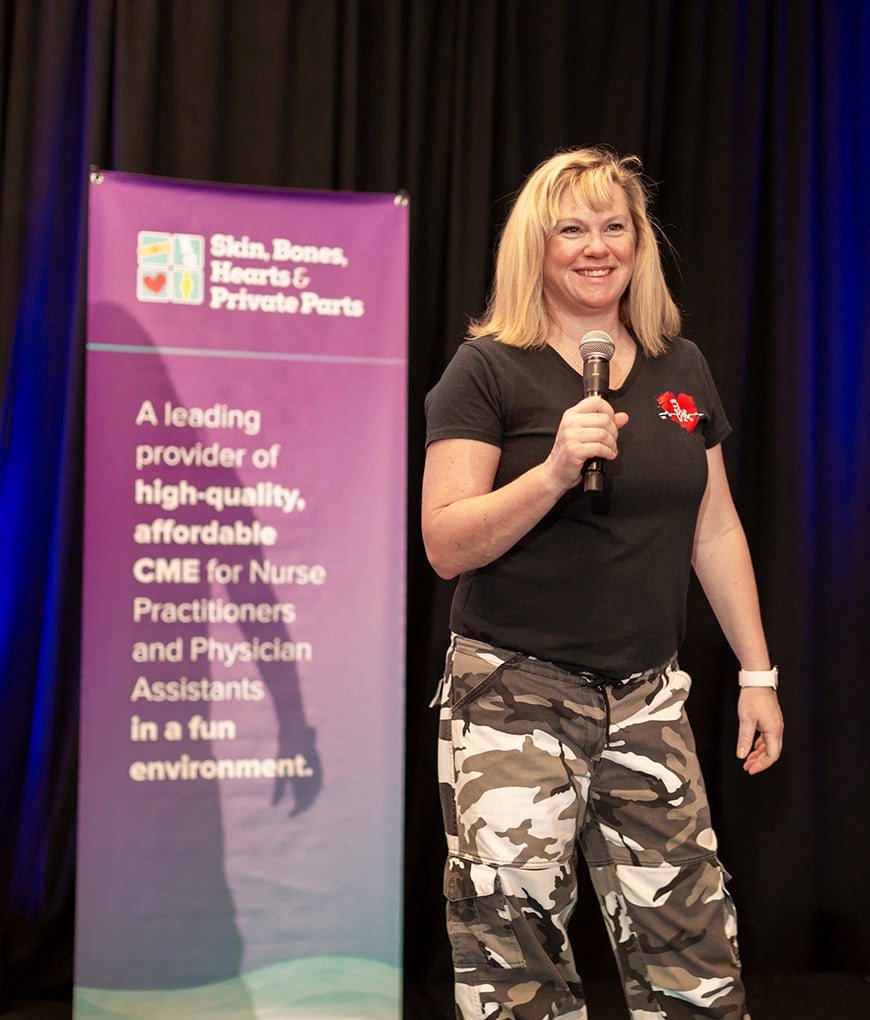 "After attending my first conference in San Antonio 2015, I knew I had to share the excitement and gained knowledge I endured after the conference. Before boarding my plane to Georgia, I texted each of my NP and PA contacts to tell them I finally found a clinical, evidenced-based conference that kept my attention. I had attended several other National known conferences where I would lose focus after a few hours of legislature talks, but this conference was different. In fact, I enjoyed having my peers present information that was useful in practice. Once my friends, colleagues, and their friends heard my testimony, they wanted to see for themselves. The most reward for each of us is to have a reduction in registration from my referrals. Another positive is early start and finish times so we can tour the city.
It has been easy to get the word out. I even tagged my friends on Facebook. I might not get as many referrals now, but I am happy to know I contributed to a greater success of invitees attending your conference. A practitioner on my team told me last month, she will never attend another conference."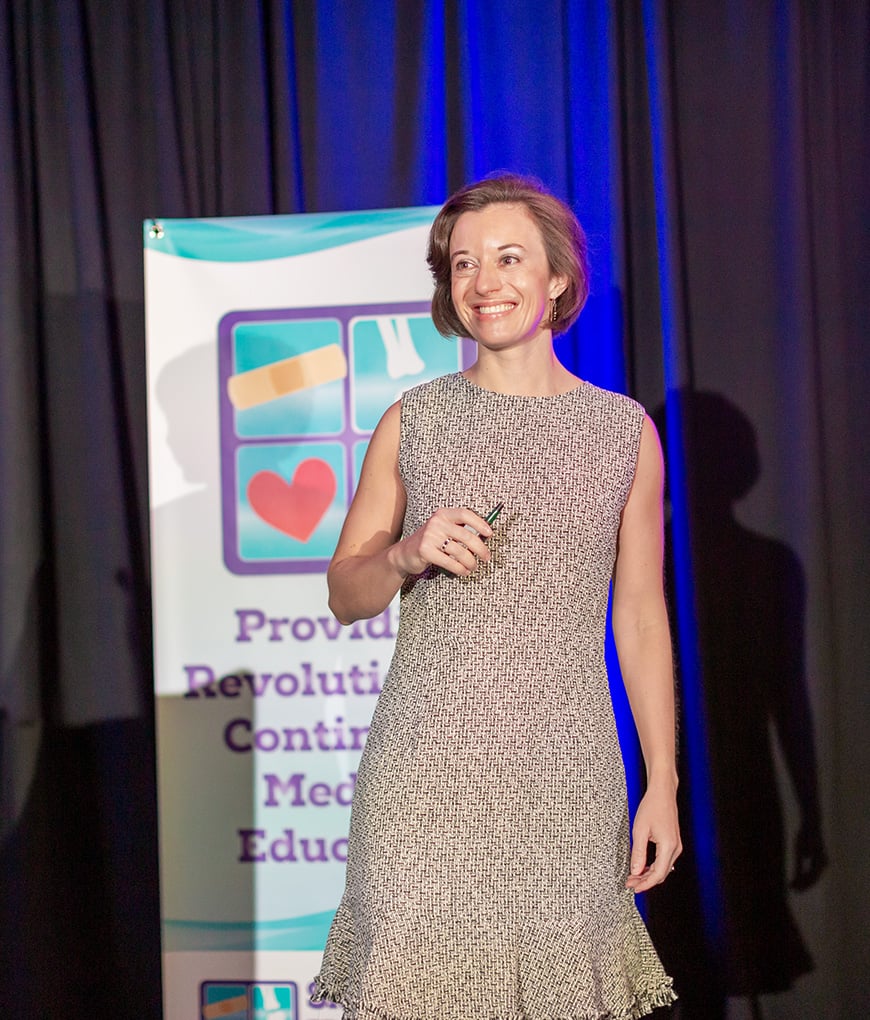 "I am a Family Nurse Practitioner, currently working at a retail health clinic. I live in North Myrtle Beach, SC, with my husband and two dogs. I graduated from Francis Marion University in Florence, SC. Since I am practicing at my first job as a nurse practitioner, I was eager to find an interesting and applicable course for my continuing education requirements. I first heard about Skin, Bones, Hearts, and Private Parts from a colleague, who had nothing but wonderful things to say. After participating in one of these courses on my own at the Myrtle Beach location, I was beyond impressed. The content of the courses covered a wide range of material that is both relevant to practice and interesting. The speakers were very knowledgeable and engaging. The entire process was well organized, and the staff members were very friendly and approachable. They even gave out tumblers and flash drives to all of the guests!Another very neat aspect is the SPIRIT Referral Program. Not only do you get education, CEU credits (a very large amount I must add), and a pleasant experience overall, but you ALSO have the option to earn money in the process. It is so simple; you refer someone, and each of you get rewarded for it ($100 cash!). The person you are referring just has to use your code when they register. It is extremely easy!I can't wait to attend another Skin, Bones, Hearts, and Private Parts conference. If you haven't been already, I highly recommend it!"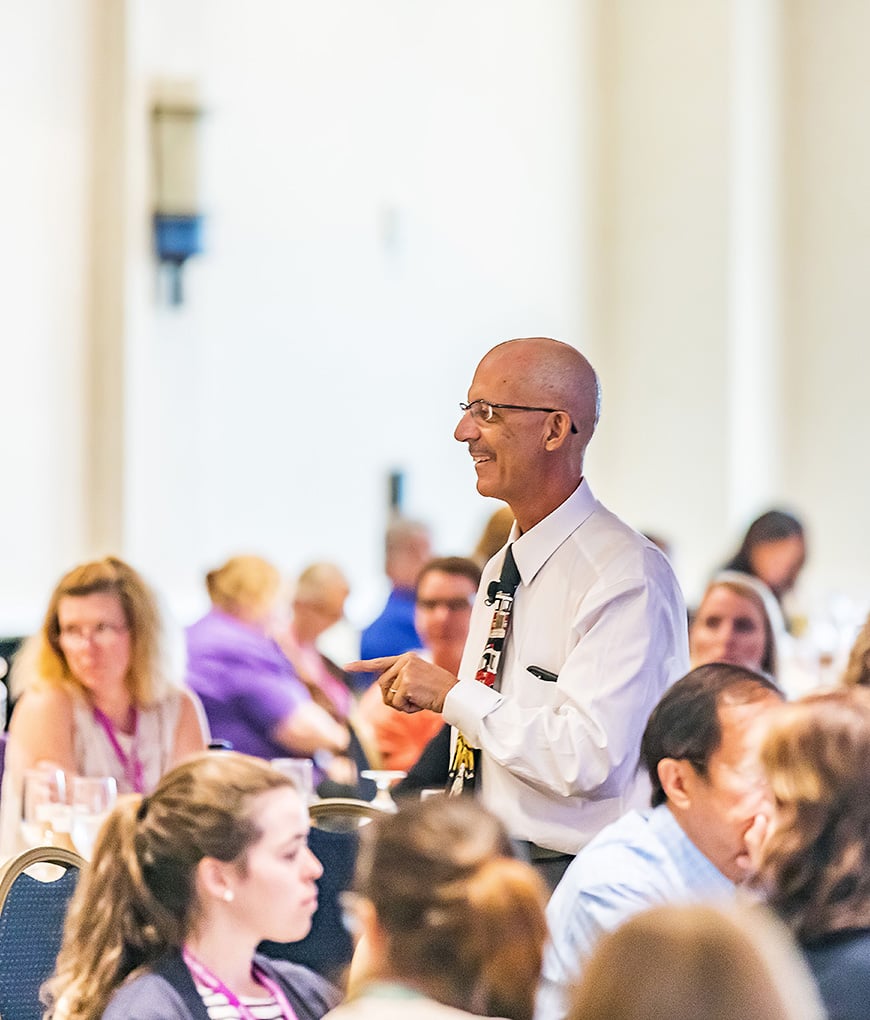 "Not entirely sure how I stumbled upon the Skin, Bones, Hearts and Private Parts conferences but I am very happy I did!
I have attended two conferences, both in Vegas. I was able to bring my husband along and he loves exploring while I'm at the conferences. I love how diverse the conference is day by day, you are educated with a variety of topics that can be applied to many different specialties and practices. I also appreciate the ability to attend these wonderful conferences, receive a generous amount of CEUs and also sightseeat the same time. I've been a FNP for 5 years practicing in the Urgent Care and Occupational Health setting. I attended SUNY Binghamton in Upstate New York and currently live in the Northern Virginia area with my husband and son. I plan to take advantage of many more Skin, Bones, Hearts and Private Parts conferences in different locations around the US in the coming years.
Another plus to this seminar is the SPIRIT program. I have referred many of my NP friends and colleagues to the program not only for its thorough and experienced speakers but also for the $100 referral bonuses. Not only do I get a $100 check for referring, but my friend will get $100 to have some spending money on their adventure! I highly recommend this program! You won't be disappointed!"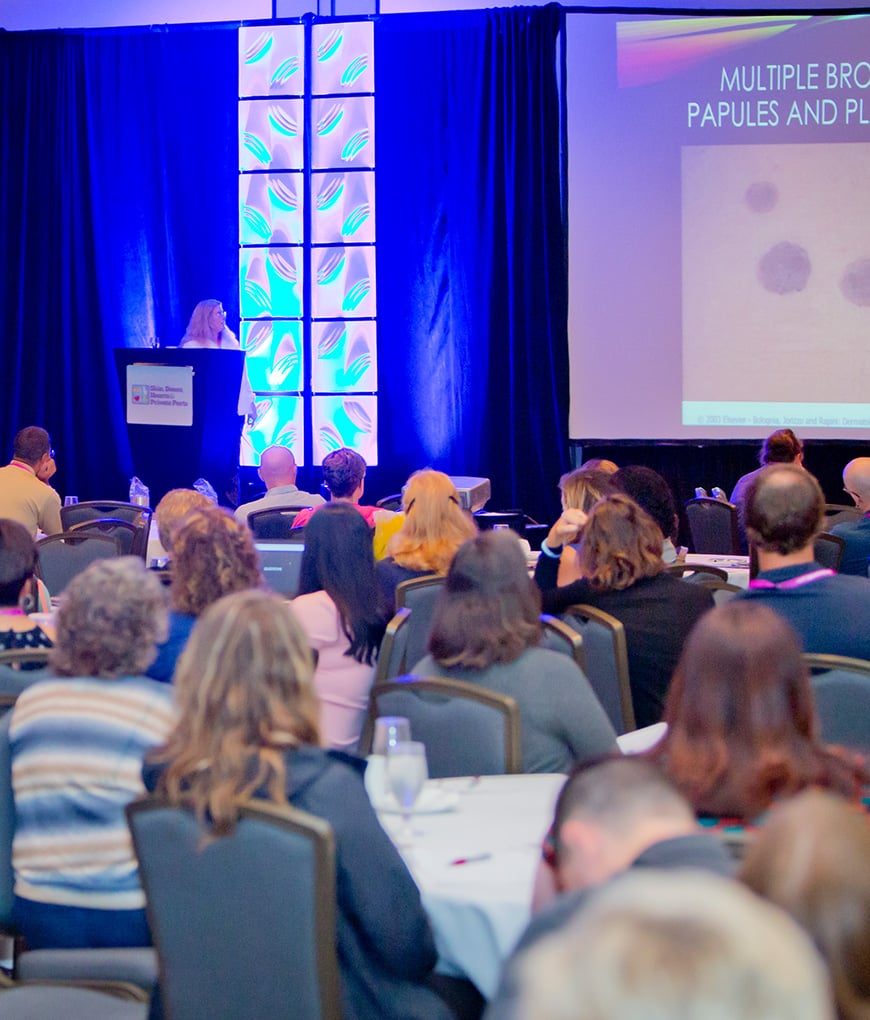 "When I started my career as a nurse practitioner, I was somewhat clueless as to how I wanted to obtain my continuing education hours. I remember going online to search "nurse practitioner continuing education" and coming across an endless amount of conferences, online courses, and modules. How could I possibly decide from all of the options out there? Then one day I was talking to a nurse practitioner friend of mine who mentioned the Skin, Bones, Hearts, & Private Parts conference.When I further looked into your conference, I was amazed that one conference could cover so much material! I find that a lot of conferences focus on one specialized area or topic. Getting the most out of a conference was my main goal. Another plus of your conference are the locations where they are offered. The opportunity to visit different areas of our country while getting CMEs is great! I have taken advantage of this and have attended the conference in Las Vegas and San Antonio (and hope to continue adding to my destinations). Another great aspect about your conference is the Spirit referral program. I get paid for referring my peers and friends to attend a conference that I can truly say is AWESOME! I look forward to attending more of your conferences in the future and invite others to join me…..you will NOT be disappointed!"
Registration Is Open For Our Amazing 2023 CME Locations!
Join the most popular and fastest growing CME events for physician assistants and nurse practitioners in the country!
Refer A Friend To Any 2023 Event And You Both Receive Up To $100!
Select a destination to learn more about our 2023 CME Conferences!