Need CME Before Year-End?
"Best of 2022" Live Streaming Courses Available in December!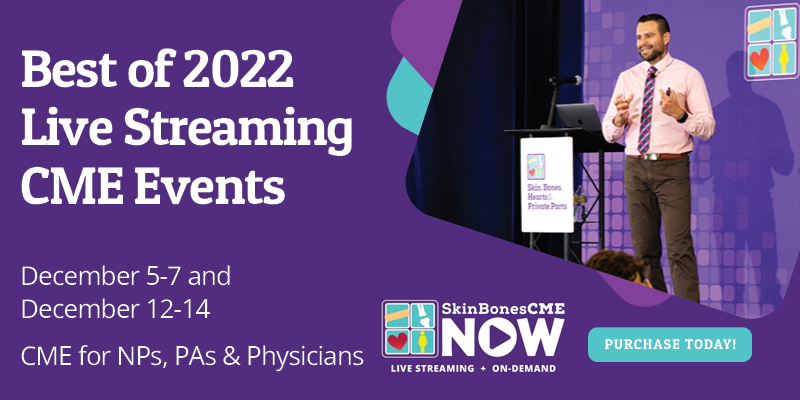 We know how it goes – all your best intentions to get your CME credits done well before the end of the year, and now the final quarter looms and you're still a few hours short. Sound familiar? "Best of 2022" Live Streaming is now available, featuring 15 different courses, hand-picked by 12 of our best speakers, delivering the ultimate refresher on key topics in an engaging format. We'll even throw in the speakers' email addresses so that you can send them questions after the sessions!
Intrigued? Here are the key details:
Nurse Practitioners, Physician Assistants, and Physicians can earn up to 21.5 CME credit hours and up to 5.75 APRN hours
Available December 5-7 and December 12-14, 2022
Topics will include cardiology, dermatology, orthopedics, women's health, and more, with presentations as varied as:

This Is… Ortho Jeopardy!
I Spy: Basics of Skeletal Radiology & Fracture Identification
Keys to the Knee: Simplifying Evaluation of the Knee
The "S" Word: Demystifying Female Sexual Health
Making Your "What Can Kill" List & Identifying That "Needle in a Haystack"
Spot the Heart Attack: 12 Lead ECG Case Studies
Managing Airline Emergencies
Ref and Pef: The Not So Identical Twins of Heart Failure

Access on desktop, tablet, and mobile with live technical support.
Register by November 1 and save $50! Find out more and rest easy – your 2022 CME really can be earned this easily!
Meet Carol Paul
Executive VP, Operations
In our last issue, you got to know Chuck Dillehay, CEO of Dillehay Management Group (DMG) and Founder of Skin, Bones, Hearts & Private Parts – this month, let's sit down with Carol Paul, our Executive Vice President, who has been with Skin Bones since day one!
How did you find Skin, Bones, Hearts & Private Parts?
Oh, that's a long, winding story! I first met Chuck back in 1998 or so, when we were working with another association management organization. When Chuck founded Dillehay Management Group (DMG) and asked me to join him, I jumped in. It was just the two of us for a long time, managing multiple trade associations and running conferences all over, until little by little we started adding staff to the team. After a few years, we realized that if we were doing this for other organizations, we could just as easily do it for ourselves … and Skin, Bones, Hearts & Private Parts opened its doors. I found the transition very smooth; I've worked with associations for so long, and although association management was new to me, I was in the genre, I understood how it works. I was looking for a change, and this came at the perfect time.
What does a typical day look like for you, and what do you love most about your career?
I'm connected to every single part of the organization – everything comes through me at some point. I spend a lot of my time managing inquiries and managing the workflow of staff, as well as working with the outside vendors with whom we often partner. If we need more resources dedicated anywhere, I help control the flow. I review hotel and conference contracts, make sure deadlines are met, and just keep on top of every process – from marketing and promotion through to the minutia of conference planning. Chuck signs the contract, and I execute them. I travel to all the locations, as I am the primary contact for the hotel, monitor attendance and registration, work with exhibitors … there are a lot of moving parts. But I love it, and it's been a great career. Chuck has created a really welcoming and flexible work environment, and he's quite simply a great person and great to work for. That's what keeps me coming back; the work doesn't feel like work.

What do you think makes Skin Bones better than other CME providers?
I've worked for some of the others, and I believe in my heart that the way to offer the best experience is to do more than just manage the content; our secret sauce is in helping to create it. We do so much more than just execute a meeting; we help plan every aspect of it, finding quality people, and ensuring that our content is the best and is shared by the highest-caliber of speakers. It's new, it's cutting edge. A majority of our registrants are repeat-attendees, and they're bringing their friends and colleagues, which to me is a testament that they're getting what they're looking for and want to share the experience with others.
Where would we find you outside of work?
Most likely at home with my husband of over 31 years. He has his own trucking company and is very busy. Our kids are grown and off on their own – we have a daughter who's 22 and just graduated with a degree in Biology, and she went back for a public health degree. We have another daughter who's almost 26 and works for a North Carolina Medical Records company. With all of my husband's and my travels, weekends are our time, relaxing at home or out with friends.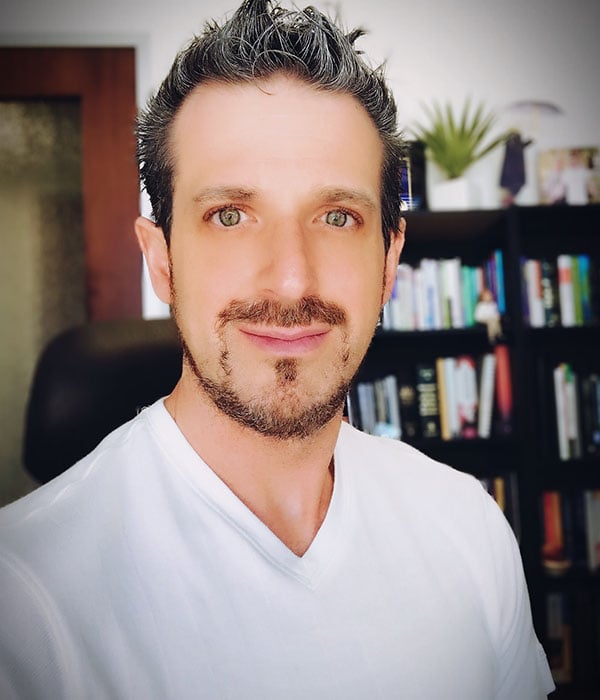 Speaker Spotlight
Josh Hamilton, DNP, RN-BC, FNP-C, PMHNP-BC, CTMH, CNE, FAANP
Dynamic speakers – who grab your attention from the start and don't let go until the sessions are over – are a keystone of our conferences. And for anyone registered for our CME Conferences in Orlando (Oct. 24-27) or Las Vegas (Nov. 15-18), you're in for a treat: Dr. Josh Hamilton, our go-to speaker who specializes in mental health issues, will present sessions on topics including Benzodiazepines, therapeutic interventions, pharmacogenomics, and ADHD.

Hamilton is in private practice, with professional interests including neurobiology, pharmacology, and epigenetics. He is an internationally recognized speaker and is nationally certified as a psychiatric-mental health nurse, family nurse practitioner, family psychiatric nurse practitioner, telemental healthcare provider, and nurse educator. He brings his positive energy and knowledge to every course he teaches – perhaps leaning on lessons he learned about performance as a classically trained pianist and lover of live music!

Watch for yourself a 30-second snippet of Hamilton at the lectern and find out why colleagues have remarked, "Excellent speaker and so relevant" … "Josh's knowledge of brain chemistry and how to target with regimen is great" … "Important updates on a subject that is sometimes swept under the rug" … "Really enjoyed this – I genuinely feel like this provided me a good refresher on treating anxiety!"

Make plans to attend today!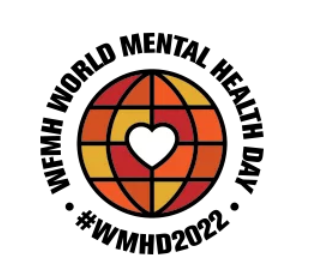 Awareness Month #WMHD
October 10 is World Mental Health Day
World Mental Health Day was observed for the first time on October 10, 1992, and has been commemorated every year since, aiming to "raise awareness in the global community about the critical mental health agendas – with a unifying voice through collaboration with various partners – to take action and to create lasting change." This year's October 10, 2022, World Mental Health Day is themed "Make Mental Health & Well-Being for All a Global Priority," selected as the world continues to reel from the effects of the coronavirus pandemic, wars, displacement, and the climate emergency, all of which have consequences for the well-being of world citizens.
Mental health issues have long been part of our curricula, and in addition to making mental health courses available at our CME conferences, we also offer an On-demand Mental Health CME Course taught by Dr. Josh Hamilton. The two-part course, worth three credit hours, includes:
Benzodiazepines: Safe Prescribing in the Era of Prescription Drug Abuse: Participants learn the benefits and risks related to the safe prescribing of benzodiazepines for individuals with various symptom presentations, and the presentation addresses the risks and cautions related to the prescribing of benzodiazepines with various medications, including opioids and stimulants, and in different healthcare settings. Participants also receive tips from identifying the warning signs of benzodiazepine abuse and techniques to safely taper and discontinue these medications to minimize withdrawal discomfort.

Keeping it Simple: The Power of Brief Therapeutic Interventions: Compelling evidence suggests that both medications and therapeutic interventions are effective in the treatment of psychiatric disorders, and clinicians in all settings need to understand how various therapeutic interventions can profoundly influence clients' ability to cope and change. This course examines four common elements that account for much of the improvement seen in clients, regardless of the approach taken.
Fall 2022 & 2023 Schedule is Open Now!
We're down to the last quarter of the year, and if you need to earn CME credits by year-end, be sure to check out our final three conferences in 2022! As always, they're available In-person, and via Live Streaming, but if you can't make it in person, check out our On-demand. So no matter what suits your schedule and learning style best, we have you covered. Check out the schedule, our dynamic speakers, and our knockout locations:
October 18-21, 2022: Atlanta, GA
October 24-27, 2022: Orlando, FL
November 15-18, 2022, Las Vegas, NV
Have a little more time to earn your CME credits? Our 2023 schedule is NOW OPEN – register early for the best rates!
All of our conferences offer topics for Nurse Practitioners, Physician Assistants, and Physicians, in the fields of dermatology, orthopedics, cardiology & emergency medicine, women's health, pain management & pharmacology, diabetes, ER, and mental health.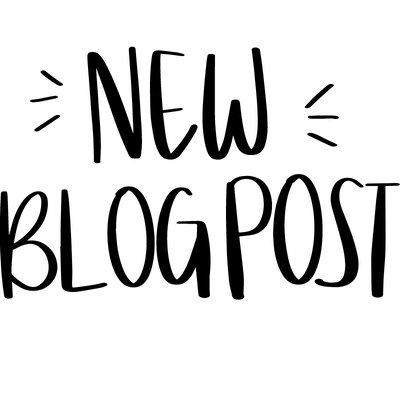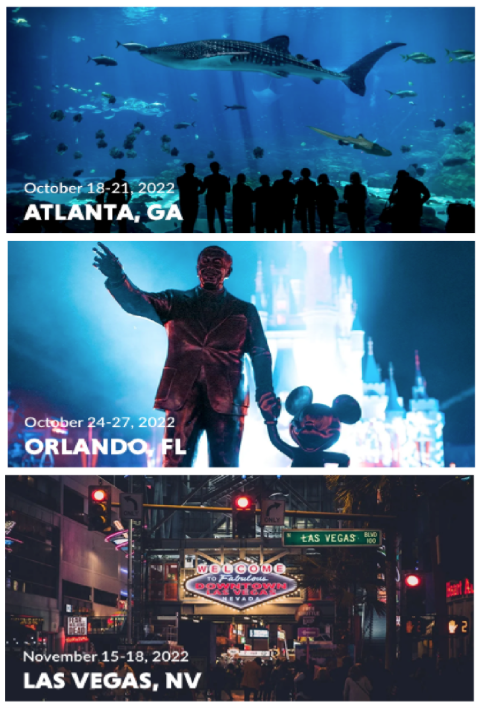 Blog New CME Blog Content, Delivered!
Maybe you're new to the Skin Bones community, or maybe you've checked out a few of our courses online as you make a plan for earning CME credits. Or, maybe you're trying to work with your employer to find the best fit for your needs. No matter your situation, three new blogs now available on our website can help you understand the "Skin Bones Difference" – what makes our programming the best, most engaging content out there?! – while helping you figure out whether In-person, Live Streaming, or On-demand works best for your lifestyle and learning style.
Watch for blog posts in our social media feed and on our website – new content will be coming in the coming months, based on what YOU have told us you most want to read (thank you to those who responded to our survey). Read, enjoy, and share so that more colleagues can learn about Skin, Bones, Hearts & Private Parts!