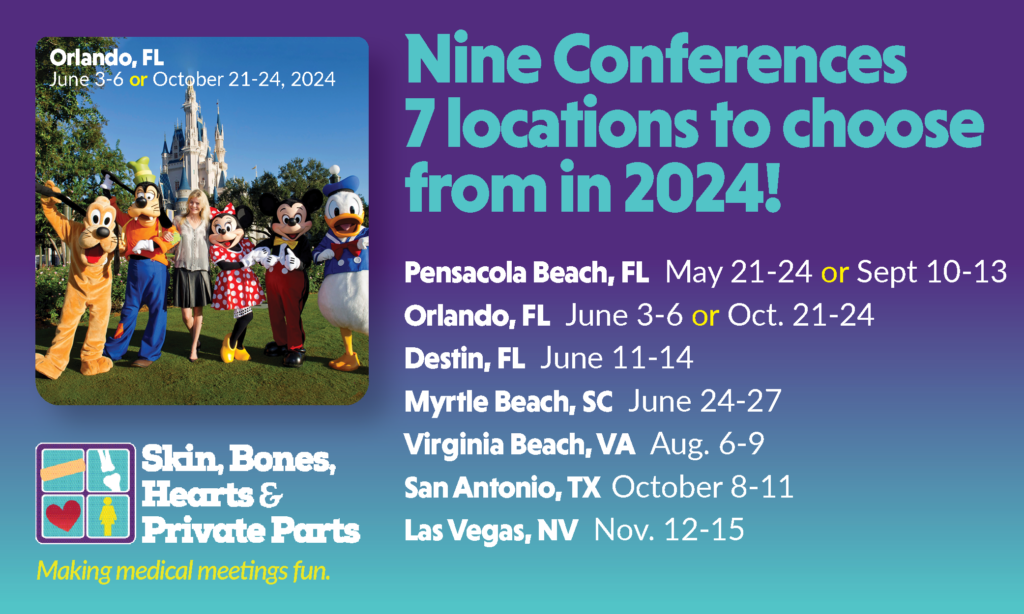 Register early for best rates!
Our slate of fully accredited CME conferences for 2024 is set, and we're excited to announce that we will be returning to our two most popular city destinations – Orlando and Pensacola – twice next year, doubling your chance to visit the parks or the beach while earning CME! The speaker lineup, meanwhile, will see some returning stars and some new faces, and have passed our two-part test of knowledge base and presentation style. And, we'll offer CME in-person, on-demand, and virtually, so no matter your learning style or your schedule, we have you covered.
Ready to start making some plans for earning CME and tying in a fun getaway? Check out the schedule, our dynamic speakers, and our knockout locations – and remember, register early for the best rates!
May 21-24, 2024: Pensacola Beach, FL
June 3-6, 2024: Orlando, FL
June 11-14, 2024: Destin, FL
June 24-27, 2024: Myrtle Beach, SC
August 6-9, 2024: Virginia Beach, VA
September 10-13, 2024: Pensacola Beach, FL
October 8-11, 2024: San Antonio, TX
October 21-24, 2024: Orlando, FL
November 12-15, 2024: Las Vegas, NV
All of Skin, Bones, Hearts & Private Parts' CME Conferences are also available in Virtual and On-demand formats, and all of our conferences offer topics for Nurse Practitioners, Physician Assistants, and Physicians in the fields of dermatology, orthopedics, cardiology & emergency medicine, women's health, pain management & pharmacology, diabetes, and more. We also offer the best value per CME credit, with our cost per CME credit hour as low as $22.