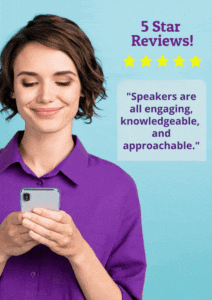 Maybe you're looking to convince a colleague to travel to a CME Conference destination location with you, or perhaps you haven't yet attended one yourself but keep hearing Skin, Bones, Hearts & Private Parts offers a winning combination of education and fun. Either way, check out some of the testimonials from NPs, PAs, and physicians our testimonial page and YouTube channel, where you'll hear firsthand from conference attendees what they loved most about earning CME with us.
Teri Cuthbertson, FNP in Colorado, for example, reported on her experience at her very first Skin Bones CME conference, saying, "The topics were so well covered and well addressed – from a physiology standpoint and with evidence-based practice recommendations – and the speakers were exceptional. Not only were they interesting and informative, but they were entertaining! It was so wonderful, and the setting – in Sandestin, Florida – also couldn't be beat. I'd absolutely recommend a Skin Bones CME conference!"
Discover what other colleagues in the field have to say about why they chose us!