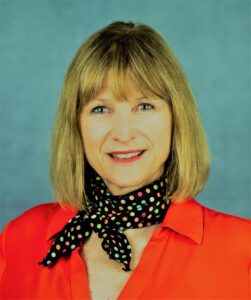 Christine Kessler, MN, CNS, ACNP, ANP-BC, BC-ADM, FAANP
At Skin, Bones, Hearts & Private Parts, we know that our ability to provide the best, most up-to-date medical education depends on hiring the most engaging presenters, who are not only leaders in their field of study but who can hold attendees' interest throughout a day of focused study. When it comes to diabetes, a complex and chronic disease that affects individuals of all ages, we are excited to welcome a new speaker to our family: Christine Kessler, MN, CNS, ACNP, ANP-BC, BC-ADM, FAANP, an award-winning nurse practitioner (NP), national/international speaker, prolific author, and clinical consultant specializing in General Endocrinology, Genomic, Obesity, and Metabolic Medicine.
In her more than four decades of advanced nursing practice, she's held diverse roles in academia (Assistant Professor in undergraduate & graduate nursing), research, and clinical practice; the latter as a critical care clinical specialist and ACNP intensivist (20 years) and an endocrine specialist (22 years). After 15 years as the Senior NP at the Department of Endocrinology & Metabolic Medicine at Walter Reed National Military Medical Center, Christine founded Metabolic Medicine Associates in rural Virginia, where she provides general endocrine services and weight-loss management. Christine has received numerous top clinical practice and patient satisfaction awards, including the Fort Belvoir Hospital Department of Medicine's Silver Ace award for top Medical Provider and the rare Coin of Excellence personally awarded by the Surgeon General for having the highest patient satisfaction rating of all health care providers in the Army WORLDWIDE. Christine is a Fellow of the American Association of Nurse Practitioners.
Listen and learn from Dr. Christine Kessler, by registering for our Myrtle Beach, Pensacola, Orlando, and Las Vegas CME Conferences in 2024! Topics she'll cover include:
· It's More Than Numbers on a Glucometer: Current Priorities of Diabetes Management
· Making a Good Start: Addressing Pre-Diabetes Meaningfully (Rx=0.25)
· Practical Approaches to Using Current, Non-insulin Pharmacotherapy for T2dm (Rx=0.50)
· Moving Past Your Comfort Zone: Insulin, DM Technology and More (Rx=0.75)
· Managing Metabolic Madness: Diabetes, Adiposity and Cardiometabolic Disease (Rx=0.50).
We look forward to seeing you at one of our upcoming CME conferences!