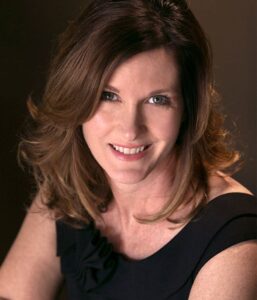 In December 2019, I decided it was time for a career change. Not a profession change, but a location change. My daughter moved to Colorado when she graduated from college in 2014, and I knew I eventually wanted to live closer to her. So, I started my search for a Dermatology practice in the Denver area. But, little did I or any of us know in January 2020, we were heading into a global pandemic with COVID-19.
Frontal Fibrosing Alopecia
After a couple of false starts due to the lockdown, which included my own 7-week furlough, I finally received a firm offer. I moved to Colorado Springs in September 2020, right smack in the middle of the pandemic.
I had practiced in Ohio for 22.5 years and really hadn't contemplated the challenge I would face starting a practice from scratch. (Did I mention we were in the middle of a pandemic?) Not only was it more challenging for me personally at this stage of my life to relocate (I had my own bout of Telogen Effluvium), but it certainly was also challenging to establish a practice. People were either terrified to go out in public or angry at the restrictions put in place.
However, people were also experiencing a type of hair loss known as Telogen Effluvium. This is a temporary hair loss caused by stressors such as childbirth, divorce, surgery, illness, medication, and psychological stress (like moving across the country and trying to establish a new practice), to name a few. Therefore, there was a need to start an alopecia clinic to care for these patients and to help build my practice. So that is exactly what I did.
Along the way, I started noticing more and more patients presenting with a type of hair loss known as Frontal Fibrosing Alopecia (FFA). FFA is a progressive, scaring form of alopecia which was first reported in 1994. In the words of Dr. Jerry Shapiro, a leading hair loss expert, "Frontal Fibrosing Alopecia is an epidemic. It's growing. There is just so much of it. This is a trichologic emergency. Early intervention is key!"
The cause of FFA is not clearly understood. We suspect there is a component of immune dysregulation, genetics, hormones, and possibly environmental factors. It is a diagnosis only found in adults. FFA is diagnosed more in postmenopausal women than in other groups. However, 15% of known cases have been found in men and premenopausal women. Chemical sunscreens have been implicated as a possible environmental factor, but a direct correlation has yet to be established.
Patients commonly present with recession of their frontal hairline in a band-like pattern. This band is easy to appreciate, as it is proximal to the sun-damaged skin of their forehead. Some will have what we call 'lonely hairs' in the location of the previous hairline. Many patients will also have loss of their eyebrows and will exhibit facial papules, which marks the involvement of the vellus hairs of the face. It is not completely uncommon for patients to also complain of hair loss in other locations on the body.
My patient photo below is an excellent example of a patient with FFA. The photo depicts noticeable hairline recession in the classic band-like pattern, lonely hairs, and evidence of eyebrow loss. This patient remedied the eyebrow loss through tattooing.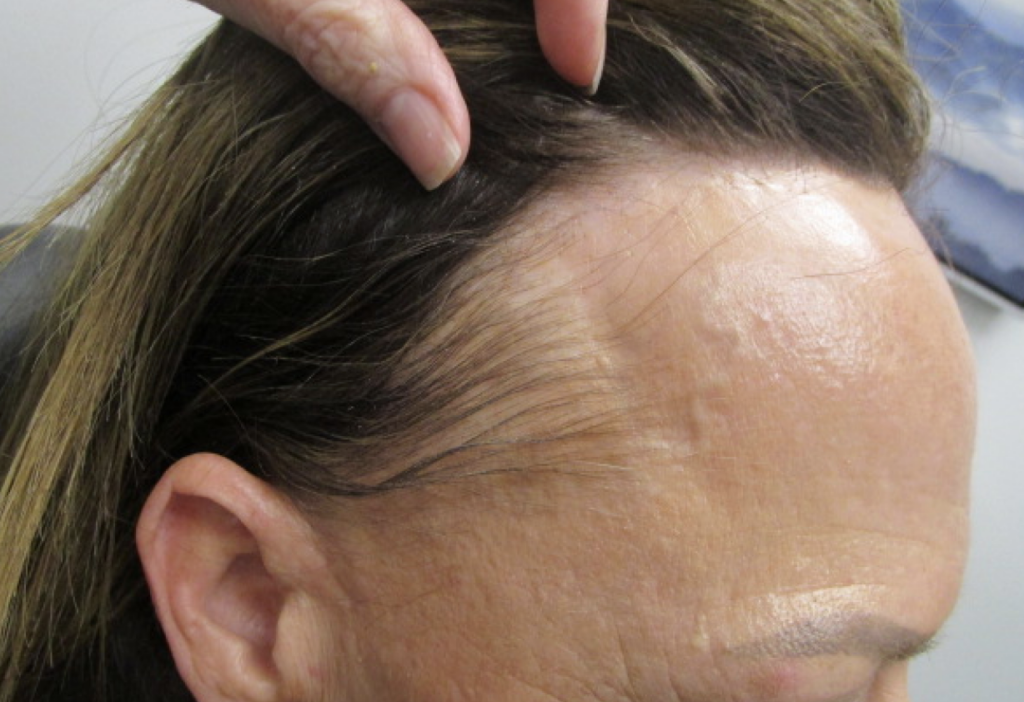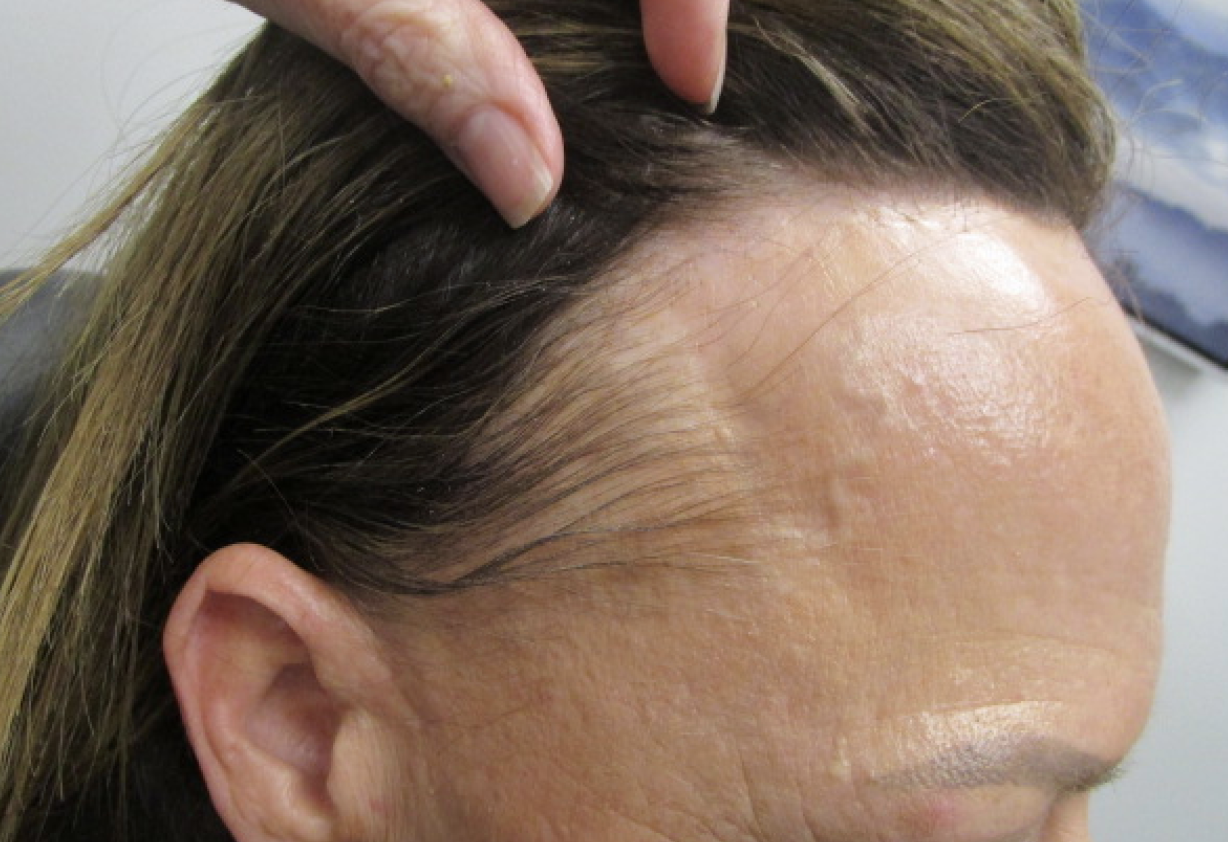 Frontal Fibrosing Alopecia makes up about 11% of all alopecia diagnoses and 40% of cicatricial alopecia diagnoses. The goal of treatment is to stabilize the new hairline and halt progression. One important concept to remember about cicatricial, also known as scaring or alopecia, is once the follicles are lost/destroyed, hair growth cannot be re-established. Treatment consists of frequent injections of intralesional steroids, potent topical steroids and minoxidil, sometimes oral prednisone, Doxycycline or even Plaquenil. Progress is re-evaluated every month until stability is achieved. Hair transplants can be considered for those patients with significant loss, but not until the disease state is stabilized.
It has been over two years since I made the move to Colorado Springs. I no longer have an alopecia clinic on a weekly basis. This is not because the demand does not exist. It is simply because my days are now packed with general dermatology patients. However, it is not uncommon for me to find FFA while performing a total body skin exam on my patients. I will pause my exam and I will simply ask, "Tell me about your hairline. Have you noticed any changes?" Many patients have been previously misdiagnosed with androgenic alopecia and are unaware of the progressive scaring which has already occurred. Some report no concern for hair loss when asked. The patient depicted above was one of those patients.
I have a personal passion for FFA patients. The psychosocial impact of this disease state is HUGE. I know if I can halt the progression of this disease, I can greatly impact my patient's quality of life. Therefore, I continue to treat this type of alopecia because I am in the business of changing lives. Aren't we all?
Skin Bones CME Conferences
Hit the reset button while earning continuing medical education credits at our CME conferences, where you can travel to a vacation destination; earn CME credits with like-minded nurse practitioners, physician assistants, and physicians; and 'unplug' while enjoying a new locale! Check out our upcoming Skin, Bones, Hearts & Private Parts 2023 CME Conferences and 2024 CME Conferences! At every event, the best of the medical community gathers to earn CME credits, network, and gain knowledge on dermatology, orthopedics, cardiology and emergency medicine, women's health, pain management and pharmacology, diabetes, ER, and mental health. On-line CME courses and Virtual CME are also available so you have the option of earning CME credits online.
References
Frequency of the Type of Alopecia in Twenty-Two Specialist Hair Clinics: A Multicenter Study; Sergio Vano-Galvan, et al. Skin Appendage Disorders 2019 Aug; 5(5) 309-315
Lichen Planopilaris and Frontal Fibrosing Alopecia: Treatment Algorithms; Jacqueline McKesey, MD, MS; May 11, 2021 https://nextstepsinderm.com/derm-topics/odac-pearls/lichen-planopilaris-and-frontal-fibrosing-alopecia-treatment-algorithms/