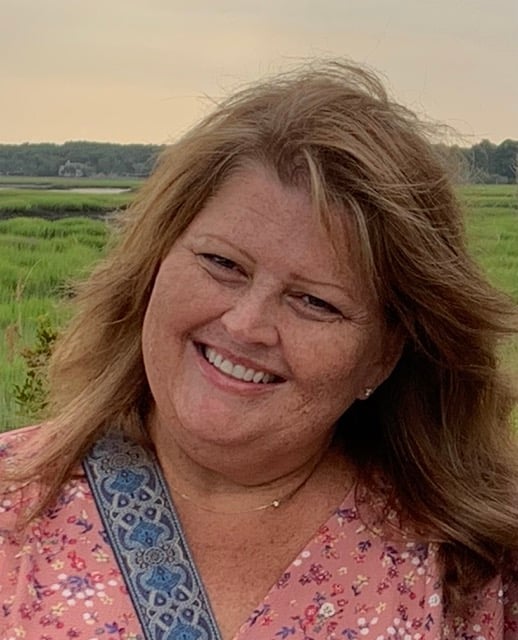 If you're reading this newsletter, have ever received an email about any of our CME offerings, or called us with a question, you've "met" the woman who makes the magic every day – Carol Ann Hedin, our marketing & communications manager. Now, let's grab a cup of coffee and sit down with her to learn even more!
Q: What led you to Skin, Bones, Hearts & Private Parts?
A: I had spent 30 years in the marketing field learning about direct mail, email, database marketing, promotional products, trade shows and more, most recently working as the operations manager for a company that provided flooring and labor support for 365 trade shows nationwide. In March 2020, when COVID hit, trade shows were cancelled, and I was furloughed.
I stumbled upon an ad looking for an assistant for an event company that looked like a good fit; I had been an exhibitor as well as a third-party vendor for trade show services, but I hadn't actually had experience organizing and producing conferences. I started part time, but when our marketing manager decided to move on, Chuck asked if I would like the position. I jumped at the opportunity and haven't looked back.
Q: What do you love most about working with SBHPP?
A: There is no typical day. We are always getting the word out about our In-person, Live Stream, and On-demand events, and it takes a lot of planning and brainstorming to come up with new promotional strategies. We're constantly reviewing what works and what doesn't, and once May hits and the first conference launches, it's all hands on deck as we pitch in with phone calls, online chats, technical questions, and working at the events. I'm also always working with our technical team to get the next year's show information posted so that when one show is completed, attendees can register for the following year.
Q: What do you think makes SBHPP better than other CME providers?
A: We have fun destination locations with something for everyone – the beach, city life, night life … no matter what you love, we've got it. We have the most entertaining speakers who keep everyone engaged, and of course we have the best people! Not only do we have a great team, but we really love the attendees – we have the best physicians, nurse practitioners, and physician assistants!
Q: Where would we find you outside of work?
A: I'm usually at home with my family; in the summer, we love to spend time on the lake soaking in some sunshine and exploring by boat.
Skin Bones CME Conferences
Hit the reset button while earning continuing medical education credits at our CME conferences, where you can travel to a vacation destination; earn CME credits with like-minded nurse practitioners, physician assistants, and physicians; and 'unplug' while enjoying a new locale! Check out our upcoming Skin, Bones, Hearts & Private Parts 2023 CME Conferences and 2024 CME Conferences! At every event, the best of the medical community gathers to earn CME credits, network, and gain knowledge on dermatology, orthopedics, cardiology and emergency medicine, women's health, pain management and pharmacology, diabetes, ER, and mental health. On-line CME courses and Virtual CME are also available so you have the option of earning CME credits online.