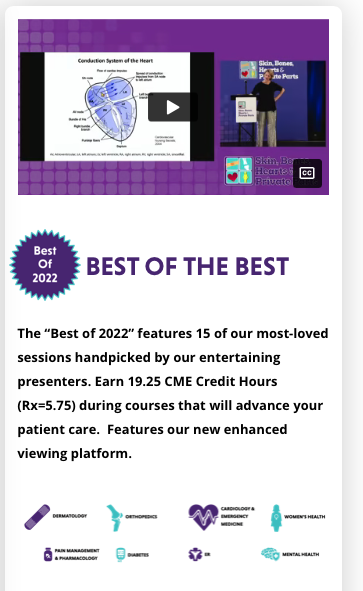 Earn CME with "Best of 2022" Courses, Available On Demand!
Don't find yourself in a jam at the end of the year – start making your plan now to earn CME credits so you can cross it off your to-do list early! We've even made it easy for you with our new "Best of 2022" On-Demand CME program, featuring 15 video courses hand-picked by our best speakers. This innovative course package offers a quick and easy way for Nurse Practitioners, Physician Assistants, and Physicians to earn up to 19.25 CME credit hours and up to 5.75 APRN hours.
Each "Best of 2022" On-Demand Package Includes:
15 of our most loved CME courses
19.25 CME credit hours & up to 5.75 Pharmacology hours
12 speakers
Online course materials
Access on desktop, tablet, and mobile devices.
Explore best practices and discover new research in dermatology, orthopedics, cardiology & emergency medicine, women's health, pain management & pharmacology, diabetes, and mental health.
Presentations include:
This Is… Ortho Jeopardy!
Diagnostic Dilemmas in Dermatology
Pain Treatment in the Opioid Epidemic
I Spy: Basics of Skeletal Radiology & Fracture Identification
Keys to the Knee: Simplifying Evaluation of the Knee
The "S" Word: Demystifying Female Sexual Health
Spot the Heart Attack: 12 Lead ECG Case Studies
Managing Airline Emergencies
Ref and Pef: The Not So Identical Twins of Heart Failure.
The "Best of" package can be purchased online anytime, but why not start now? Find out more and start the year off right!