In 2019, the last time I spoke for Skin, Bones, Hearts and Private Parts, I blogged about the sunscreen dilemma.  The dilemma was perpetuated by two studies:  one which looked at the effectiveness of an SPF above 30 while the second study looked at the safety of sunscreens based on the systemic absorption of the active ingredients.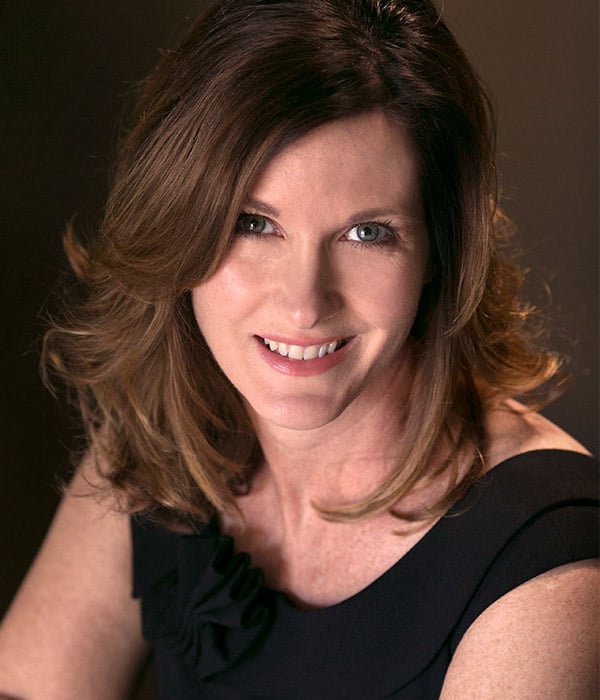 Five years have passed since my original blog. I decided it was time to re-explore this topic to see what has (or has not changed). Let's look at a sunscreen label, provided for us by the American Academy of Dermatology (AAD).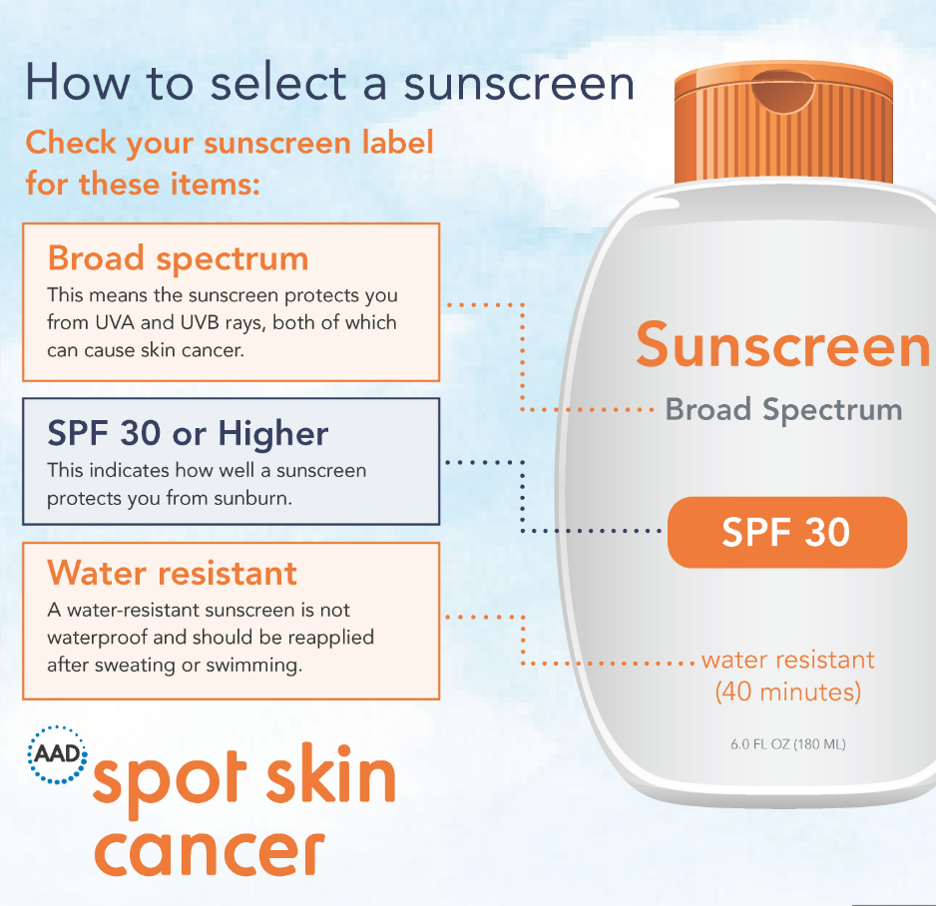 What to look for in sunscreen
Broad Spectrum:
Broad spectrum indicates a particular sunscreen protects against both UVA and UVB radiation. UVA radiation exposure leads to premature aging and the formation of skin cancers. While UVB exposure causes sunburns, darkening of the skin, and can lead to the formation melanoma. The FDA no longer requires all sunscreen manufacturers to test their products for broad spectrum coverage. But in order for a sunscreen to add the words "broad spectrum" to their label, the manufacturer must undergo testing to be able to make the claim. Sunscreens without this labeling can be assumed to only offer UVB protection. The AAD's current position statement recommends the use of a broad-spectrum sunscreen.
SPF:
Sun Protection Factor is the measure of the amount of solar energy (UV radiation) needed to cause a sunburn on unprotected skin. SPF is not synonymous to time in the sun, as many of us have been told by our mothers. If it takes you an hour to burn without sunscreen, applying a sunscreen with an SPF of 30, does not equate to you having 30 hours in the sun with one application, before a burn will occur. Solar energy amount can certainly be impacted by duration of exposure, however, it is not the only factor. Other factors include time of day, skin type, as well as quantity and frequency of sunscreen application. The SPF is actually a simple tool to compare the sun protective qualities of sunscreens, i.e. it is a measurement which allows the consumer to compare one sunscreen to another. A sunscreen with an SPF of 30 offers more sun protection than a sunscreen with an SPF of 15.
The FDA originally only allowed sunscreens to be labeled up to an SPF of 50. However, with recent study outcomes, the new labeling could indicate an SPF 60+. The FDA has proposed to allow the marketing of products with an SPF up to 80. The hope is that this will encourage higher values to be manufactured for added sun protection. Currently, the position statement of the American Academy of Dermatology is for the use of a sunscreen with an SPF of 30 or higher.
One new item which you may see on sunscreen labels is an asterisk after the SPF, like this: SPF 30*. The asterisk indicates that particular sunscreen has not shown to be effective in preventing skin cancer or signs of aging caused by the sun. Additional labeling will be required as an explanation.
Water Resistant:
Despite what we have been told and what we want to believe, no sunscreen is waterproof. Eventually, all sunscreens will wash off in the pool or ocean. However, some sunscreens can be water resistant. The testing to obtain such labeling is quite extensive and involves evaluating a sunscreen for water resistance up to 40 minutes and 80 minutes. All sunscreens, despite water resistance labeling, should be reapplied after swimming and sweating and every two hours while sun exposure is a possibility. The AAD recommends consumers pick a sunscreen with has earned the label of 'water resistance'.
Ingredients:
Now what about the ingredients? Are they safe? Oh, how I wish I could give you a straight answer on this! But the FDA is still looking into certain sunscreen ingredients, and the impact on systemic absorption. What we do know: many of the ingredients are systemically absorbed, even with only one application. The FDA has made a determination on certain ingredients based on whether they are "generally recognized as safe and effective" or GRASE. The following ingredients have been determined to be GRASE: zinc oxide and titanium dioxide. These are the active ingredients in the mineral sunscreens. The FDA has denied GRASE status to the following ingredients: aminobenzoic acid (PABA) and trolamine salicylate due to safety concerns.
As for these ingredients: cinoxate, dioxybenzone, ensulizole, homosalate, meradimate, octinoxate, octisalate, octocrylene, padimate O, sulisobenzone, oxybenzone, and avobenzone, the jury is still out. More research needs to take place to determine their safety. We are cautioned on making assumptions on the safety of sunscreens containing the ingredients in question, until new data is available.
Formulations:
Have you ever wondered which is better: a cream, a spray or a powder? The FDA has given GRASE status to all formulations except for sprays or powders. You might be wondering what that means for your child's favorite sunscreen spray? The FDA has proposed GRASE status for the sprays, pending a little more testing and the application of certain labeling. As for the powders, they are up for GRASE status too, but the FDA wants some additional data first.
In conclusion, I just want to add a bit on skin cancer. Skin cancers are the most common malignancies in the United States. It is estimated 9,500 people are diagnosed daily. Looking at the most common types of cancer (breast, lung, prostate, etc), melanoma is the only type which continues to increase in incidence. It is estimated, 186,680 Americans will be diagnosed with melanoma in 2023. Staying completely out of the sun is impossible for most people. Using sunscreen, wearing sun protective clothing, hats and sunglasses are some of the weapons we have to protect ourselves.
In-Person and Online CME for Nurse Practitioners, Physician Assistants, and Physicians
Open your eyes to endless options while earning continuing medical education credits at our CME conferences, where you can travel to a vacation destination; earn CME credits with like-minded nurse practitioners, physician assistants, and physicians; and 'unplug' while enjoying a new locale! Check out our upcoming Skin, Bones, Hearts & Private Parts 2023 CME Conferences and 2024 CME Conferences! At every event, the best of the medical community gathers to earn CME credits, network, and gain knowledge on dermatology, orthopedics, cardiology and emergency medicine, women's health, pain management and pharmacology, diabetes, ER, and mental health. Online CME courses and Virtual CME are also available, giving you the option of earning CME credits online.
References:
fda.gov/drugs/understanding-over-counter-medicines/questions-and-answers-fda-posts-deemed-final-order-and-proposed-order-over-counter-sunscreen
https://www.fda.gov/drugs/understanding-over-counter-medicines/sunscreen-how-help-protect-your-skin-sun
https://www.fda.gov/drugs/news-events-human-drugs/update-sunscreen-requirements-deemed-final-order-and-proposed-order