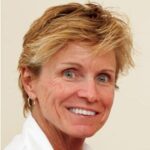 By Mary Vacala, PA-C, ATC MSPAS, DFAAPA
Every weekend the papers are flooded with reports of rookie and veteran athletes, amateur, professional, college, high school and even elementary kids whose careers have suddenly been disrupted by an ACL injury.  The results are devastating and costly. The mechanism of injury is usually a result of noncontact landing from a jump or while making a lateral pivot.
Knee injuries often require surgery and months of rehabilitation. Regardless of treatment, ACL injuries are associated with a 10-fold increased risk for degenerative knee arthritis.
Girls are six times more likely to injure their anterior cruciate ligament than boys. The United States has annually over  20,000 Girls under the age of 19 suffer a serious knee injury related to sports participation.  70% of the ACL injuries occur while landing from a jump or changing direction suddenly. Researchers have investigated this gender disparity in ACL injury rates for years. The most compelling evidence comes from studies that have identified differences in the balance and timing of muscle activation around the knee.
When performing certain athletic tasks, such as landing from a jump or changing direction suddenly, girls tend to demonstrate less activation of the hamstring muscles, less knee and hip flexion, and greater inward collapse of the knees than boys. These neuromuscular patterns have been associated with a greater risk for ACL injury. Research clearly indicates that their male counterparts tend to demonstrate similar risk patterns.
This lecture will discuss various neuromuscular training programs designed to lower the risk of ACL injuries among athletes. Programs are based on published scientific research which leads participants through a series of progressively challenging strengthening exercises, plyometrics, and agility drills. Participants learn how to improve neuromuscular control of knee motion and to recognize unsafe knee positions. Theoretically, the end result reduces the incidence of knee injuries by 80%.