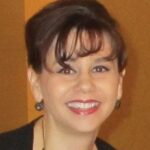 By: Risha Bellomo, MPAS, PA-C
Plan on joining DMGCME on the Memorial Day Cruise?  If so, you also should consider freshening up on your skin cancer awareness.  In the United States alone there are more than one million cases of non-melanoma skin cancer diagnosed annually – and over 90 percent are caused by the sun's ultraviolet (UV) rays.  Since skin cancer accounts for around 10,000 deaths per year, experts are now recommending that individuals add a skin cancer screening to their yearly check-up.
Follow these simple rules for spring and summer and protect yourself from the sun:
• Seek shade, especially between 10 a.m. and 4 p.m.
• Wear sunglasses, UV protection hats and clothing.
• Do not allow yourself to burn:  One single burn increases your risk of melanoma.
• Avoid tanning and UV tanning booths.  People who use tanning beds are 2.5 times more likely to develop squamous cell carcinoma (SCC) and 1.5 times more likely to develop basal cell carcinoma (BCC).   The overall chances of developing melanoma are tripled.
• Use sunscreen of 30 SPF or higher with UVA and UVB protection.  Apply sunscreens 30 minutes before going outside and reapply every 2 hours.  Sunblocks contain zinc oxide or titanium oxide and should be utilized for instant protection.
• Keep infants out of direct sunlight.  They possess little melanin and are much more susceptible to burns.
• Examine your skin from head to toe once every month.
• Look for cancer warning signs:  itching, bleeding, or a new mole that appears after age 21 that is bigger than a pencil eraser.  Know that ABCDs of melanoma.

o A – Symmetry
o B – Border
o C – Color
o D – Diameter
o E – Evolving

See a dermatology healthcare provider every year for a skin cancer screening, this includes teenagers and children.
Every healthcare provider should personally be aware of how to protect themselves and their patients.  If you want to learn more about how to recognize suspicious lesions join me as we cruise to the Western Caribbean.
Keeping Your Skin Safe.
Risha is a speaker for the Skin, Bones, Hearts & Private Parts track. See her speak this summer on the Memorial Day Cruise or in Walt Disney World.