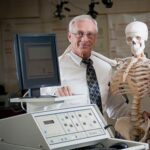 By: George J. Davies, DPT, MEd, PT, SCS, ATC, LAT, CSCS, PES, FAPTA
Knee injuries can be devastating for young athletes, recreational athletes, runners, or the general public. Hundreds of thousands of anterior cruciate (ACL) injuries occur every year. ACL injuries that occur in young athletes not only affects one's performance to continue in the sport for a minimum of 6-12 months (or longer), but less than half of the athletes make it back to return to their previous level of competitive performance (1). Besides preventing athletes from returning to their pre-injury sporting level, the majority of individuals that sustain an ACL injury have been shown to develop knee osteoarthritis (degenerative joint disease [DJD] within 7-10 years (2).
Come and learn about the present state of the art in prevention, examination and treatment of ACL injuries along with several other conditions affecting the knee. Learn innovative methods to prevent, examine, evaluate, diagnosis, develop a prognosis, perform treatment interventions, and measure the outcomes for selected knee conditions.
Arden, CL, et.al. Return to sport following ACL reconstruction surgery: a systematic review and meta-analysis of the state of play. Br J Sports Med. 45(7):596-606, 2011
Oiestad, BE, et.al. Knee osteoarthritis after ACL injuries: a systematic review. Am J Sports Med. 37:1434-1443, 2009
Thank you for your interest in learning about the current evidence and best treatment interventions for many of these devastating knee injuries.
George J. Davies, DPT,MEd,PT,SCS,ATC,LAT,CSCS,PES,FAPTA
Professor
Physical Therapy
Armstrong Atlantic State University, Savannah, GA.
See Dr. Davies at the Dream Conference in June. Walt Disney World, Florida