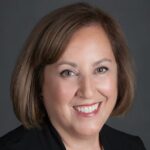 Cervical cancer is preventable and is caused by persistent infection with Human Papillomavirus (HPV).  Most sexually active adults will be infected with one or more types of HPV at some point in their lives and most of the time, those individuals will not know that they were ever infected.  The peak age of having HPV infection is in the mid twenties and the risk for invasive cervical cancer begins to rise in the mid forties.  The majority of HPV infections will be cleared to undetectable levels by 24 months, though some individuals will not clear the infection.  Over time, there is a risk of the development of true precancerous lesions of the cervix, if the virus persists.  The time from pre-cancer to cancer is in the range of 10 to 15 years and that allows for the detection of treatable pre-cancers and the prevention of invasion to cancer.   The role of HPV in cervical cancer is well understood and it is now known that HPV types 16 and 18 cause the majority of cervical cancer, and HPV 16 also causes 90% of anal cancer.  It does not require anal intercourse to have HPV in the anal canal.  The role of HPV in non-genital cancers of the head and neck is also well understood and the incidence of those HPV related cancers is rising.
The HPV vaccines came to market after FDA approval in 2006 and the 9-valent vaccine has replaced the original quadrivalent and most of the bivalent vaccine use in the United States.  Uptake of vaccination in age appropriate young men and women has been slow in spite of its role as a cancer prevention vaccine.  In a report published by the CDC in 2015, it was noted that 4 out of 10 girls and 6 out of 10 boys had not started the vaccine series.  The principal roadblock in this poor utilization has been said to be the failure of healthcare providers to recommend the vaccine.  The vaccine was seen in the pivotal studies to prevent cervical, vulvar, vaginal and anal pre-cancer which serves as a surrogate marker for the prevention of cancer.
The current recommendation by the Advisory committee on Immunization Practice (ACIP) is:
Routine and catch–up age groups

Can be started at age 9
Females through age 26
Males through age 21 who were not adequately vaccinated previously
Males age 22 through 26 may be vaccinated
There are new recommendations on the number of doses that are necessary for effective acquired immunity.  These recommendations address the more robust immune response when the vaccine is given to the younger men and women.
Use of 2-dose schedule for HPV vaccination

For persons initiating vaccination before their 15th birthday:

2 doses of HPV vaccine
2nd dose should be administered 6-12 months after the first dose (0, 6-12) schedule

For persons initiating vaccination after their 15th birthday, the recommended immunization is 3 doses of HPV vaccine

Second dose should be administered 1-2 months after the first dose and the third dose should be administered 6 months after the first dose (0, 1-2, 6 month schedule)

For persons vaccinated previously:

Any person receiving HPV vaccine that was initiated before the 15th birthday and received 2 doses at dosing schedule (0, 1-2, 6 months) are considered adequately vaccinated
Persons who initiated any HPV vaccine on or after 15th birthday and received 3 doses are considered adequately vaccinated
9vHPV may be used to continue or complete a series started with 4vHPV or 2vHPV
For person adequately vaccinated with 2vHPV or 4vHPV, no recommendation regarding additional vaccination with 9vHPV
HPV vaccines have ongoing safety monitoring and most reports are non-serious.  Reporting continues through the VAERS (vaccine adverse event reporting system).   VAERS reviews reports to search for unusual adverse events or changing patterns of adverse events.
It is imperative that clinicians are familiar with the HPV vaccine and recommend it as they would all age related vaccinations.  It is seen that clear and strong recommendations and same day administration will lead to improved vaccine uptake and cancer prevention.  When women understand that most everyone is infected by HPV at some point and that the Pap is a look at cells for the presence of abnormal change caused by HPV, they may be more willing to get their sons and daughters vaccinated.  When women understand that it is preferred that all women have HPV testing when it is age appropriate, regardless of sexual history, they may be more willing to seek vaccination for their sons and daughters.  We have an opportunity to prevent cancer and our communication with patients and parents and guardians is extremely important for improved uptake of HPV vaccination.  When health care providers make a strong recommendation, the success of cancer prevention by HPV vaccine will increase.
See Nancy Berman, MSN, ANP-BC, NCMP, FAANP speak in 2018 at a Skin, Bones, Hearts & Private Parts event in Phoenix/Scottsdale, Myrtle Beach, Pensacola, or Las Vegas.